TLDR
One Pearl Bank is an upcoming development nestled at the foot of Pearl's Hill City Park. It prioritises coziness, community and convenience. Boasting a wonderful location, views and facilities, One Pearl Bank is a development that offers a comfortable stay and stable exit strategy. We invite you to read on to find out more.
Summary
+
Wide unit selection

Very close to MRTs

Many Secondary and Tertiary schools nearby

Ample food opportunities
—
Lack of nearby primary schools

Potential competition from new developments
About the Developers
CapitaLand is a well-known real estate group headquartered and listed in Singapore. They own and successfully manage a global portfolio of approximately $133 billion. Their portfolio expands beyond commercial and retail to include residential properties too. Known globally, the company has also expanded into markets such as Europe and the United States of America (USA). Their 3 most recent projects consist of Marine Blue, Sky Habitat and The Orchard Residences.
Their excellence resulted in seven awards at the EdgeProp Excellence Awards 2020, including the Top Developer Award. Three of the awards were for the One Pearl Bank project – Landscape Excellence, Design Excellence and Top Development, leaving us intrigued with One Pearl Bank.
Purchase and Breakeven Price
CapitaLand successfully purchased the previously landmark Pearl Bank Apartments for S$929 million, including a collective sale at the price of $728 million and an estimated additional lease top up premium S$201 million. The estimated land price for the 43,103 sq ft plot comes up to approximately or S$1515PSF. With an estimated total cost of $1.376 billion, the breakeven price for One Pearl Bank works out to be $2,243 PSF PPR, and a selling price ranging around the $2,362 mark.
Accessibility and Conveniences
Accessibility
The closest expressways to One Pearl Bank are MCE and CTE. It is also very close to Outram Park MRT station where the East-West and North-East lines intersect which makes the location highly accessible. Moreover, with the development of the Thomson Line, central areas such as Marina Bay and Orchard will be a short distance away.
Conveniences
Hospitals
Singapore General Hospital (SGH): the SGH campus offers a full spectrum of healthcare services with five specialty centres – dental, eye, heart, neuroscience and cancer. With the SGH Campus Master Plan, SGH aims to upgrade itself to meet the future increase in demand for healthcare services. Some of the key features within this master plan include a new Cancer Care Centre and the SGH Elective Care Centre that will increase the hospital's capacity for operating theatres, specialist outpatient clinics and acute beds. While this may bode well for the future, in the short term, you would have to brace yourself for some noise pollution and construction works during development.
Offices
One Pearl Bank is located close to CBD and many other office districts such as Tanjong Pagar and Telok Ayer. Although this feature might be attractive to urbanites, with the current COVID-19 condition, the value of a home close to CBD when most people are working from home is questionable.
Schools
Shopping
With Sheng Siong close by, you would not have to worry about travelling far for groceries. Furthermore, the accessibility to malls such as The Central, families would be able to indulge in shopping.
Food
One of the most attractive things about One Pearl Bank is its closeness to amazing food options. With two Michelin award winning restaurants less than 10 minutes away, residents are bound to be spoiled for good food while living here.
Facilities
One of the highlights of the project is their effort to ensure that their residents will be exposed to abundant productive greenery. According to their brochure, the project boasts two terraces and a sky garden along with their sky allotment gardens.
The Privé Terrace on Level 14 faces the park and includes a yoga deck, exercise lawn and meditation corner where yoga enthusiasts can unwind and enjoy the tranquility. On the other hand, the Chillax Terrace on Level 18, faces the city and includes an outdoor lounge, al fresco dining area and entertainment area where families and friends can get together and enjoy each others' company.
Additionally, the Oculus Sky on Level 39 offers an unparalleled 360-degree panoramic view of the city that expands from the Central Business District (CBD) to Sentosa. It links the two towers via skybridges and includes a gym, 2 function rooms, a gourmet kitchen, a walking track and lawn areas.
The developers and architects have built in a space for vertically arrayed sky allotment gardens for urban farming. They are placed at one edge of each tower on every fourth floor, with 11 plots in each garden totalling 200 plots with abundant sunlight that residents can rent to grow their own fruits, vegetables and herbs. The sky allotment gardens go beyond a nature space to also foster community bonding; dividing the towers into nine smaller communities that are jointly responsible for their respective gardens.
CapitaLand also expressed their intention to plant more than 500 trees across 35 species and 135,000 plants, shrubs, and flower plants within 60,000 sq ft of space. These various amenities do not only promote residents' well-being but are also social spaces that encourage them to bond and engage with each other, thus fostering stronger relationships among residents.
One Pearl Bank is also directly connected to Pearl's Hill City park via a landscape park which offers residents more opportunities to interact with nature. Although the park is currently lacking, with Urban Redevelopment Authority's (URA) rejuvenation plans, the park will not only be converted into a social space but also be linked to more open spaces and attractions such as the Botanic Gardens and Fort Canning Park via green linkages. Thus increasing the overall accessibility of the project.
Additional facilities include a swimming pool, aqua gym, hydromassage pool and a pets park within the confines of the condominium.
Technology and Environmentally Friendly Features
CapitaLand also uses a Renovation Zero concept whereby the house is considered liveable once the owners collect their keys. Each unit comes with lighting provisions, air conditioning, cabinetry, kitchen appliances, countertops, bathroom fittings, integrated sinks and even day and night curtains are provided. Their engineered tiles used in sinks and countertops make them durable and easy to clean. They also included Hansgrohe's Raindance Rainfall shower system which comes with both an aerated rain-like jet and a gush jet for a spa-like experience within your own home.
Moreover each unit comes equipped with a smart mirror that allows users to transform the mirror into a digital display for visitor management, booking of condominium facilities, and even read the news and watch videos. Away from home, residents can easily grant visitors access or remotely control their smart appliances through the One Pearl Bank lifestyle app.
Site Plan and Units
One Pearl Bank offers a balanced variety of units favouring the small- to medium-sized layouts. There are six basic types of units with multiple variations, ranging from studios to penthouses. The two towers house these various layouts within 37 floors with the 39th floor reserved for the Sky Oculus and the 38th floor reserved for the penthouses.
Moreover, the two towers are tilted away from each other facing South (stacks 1 to 11) toward the city with views of Maxwell Road and Duxton Road and North (stacks 12 to 22) toward the park. This orientation benefits residents' privacy due to more units facing outward and minimising direct east and west sunlight while maintaining a light and airy effect.
Let's check out the unit layouts.
Studio
4 similar configurations, with the same rectilinear shape that is narrower at the doorway and widens toward the living area. The configurations essentially mirror each other with the main difference being the availability of a view straight down from the living area. Floorplans A1-a and A1-a(m) offer that view while the view is blocked by a ledge for A1-b and A1-b(m). This makes A1-a and (m) the more attractive option at their similar prices, around the S$1.2m range.
1-bedroom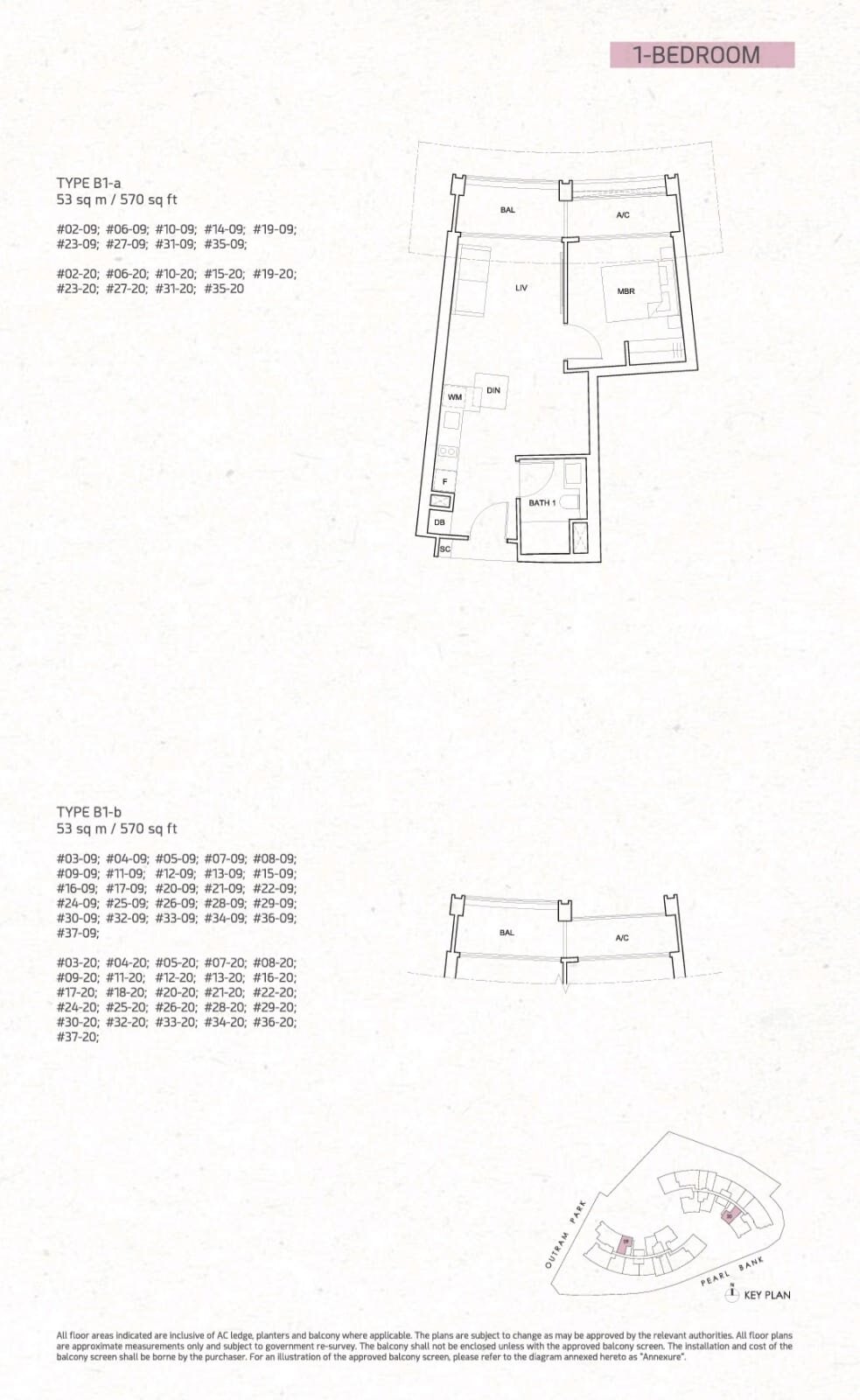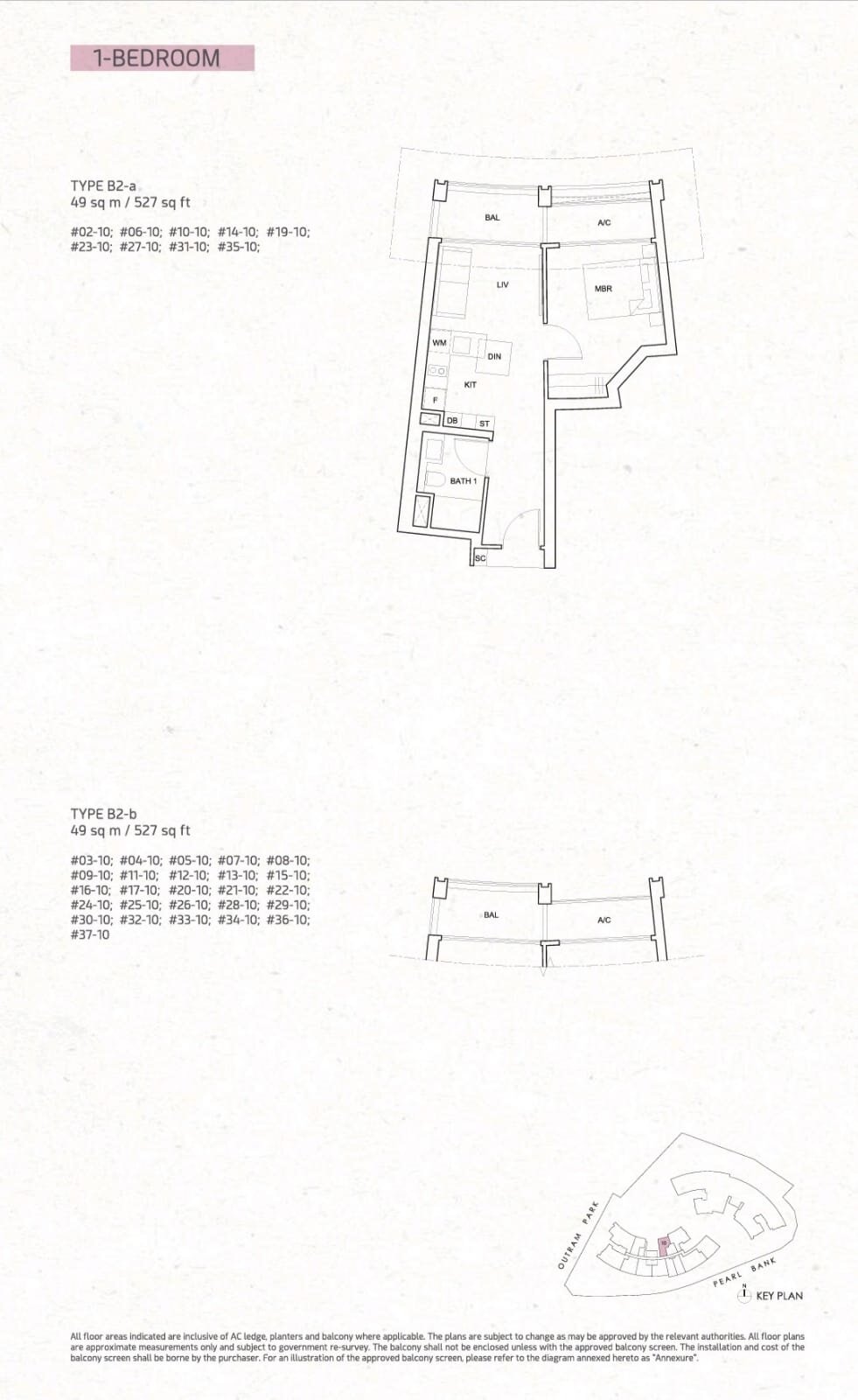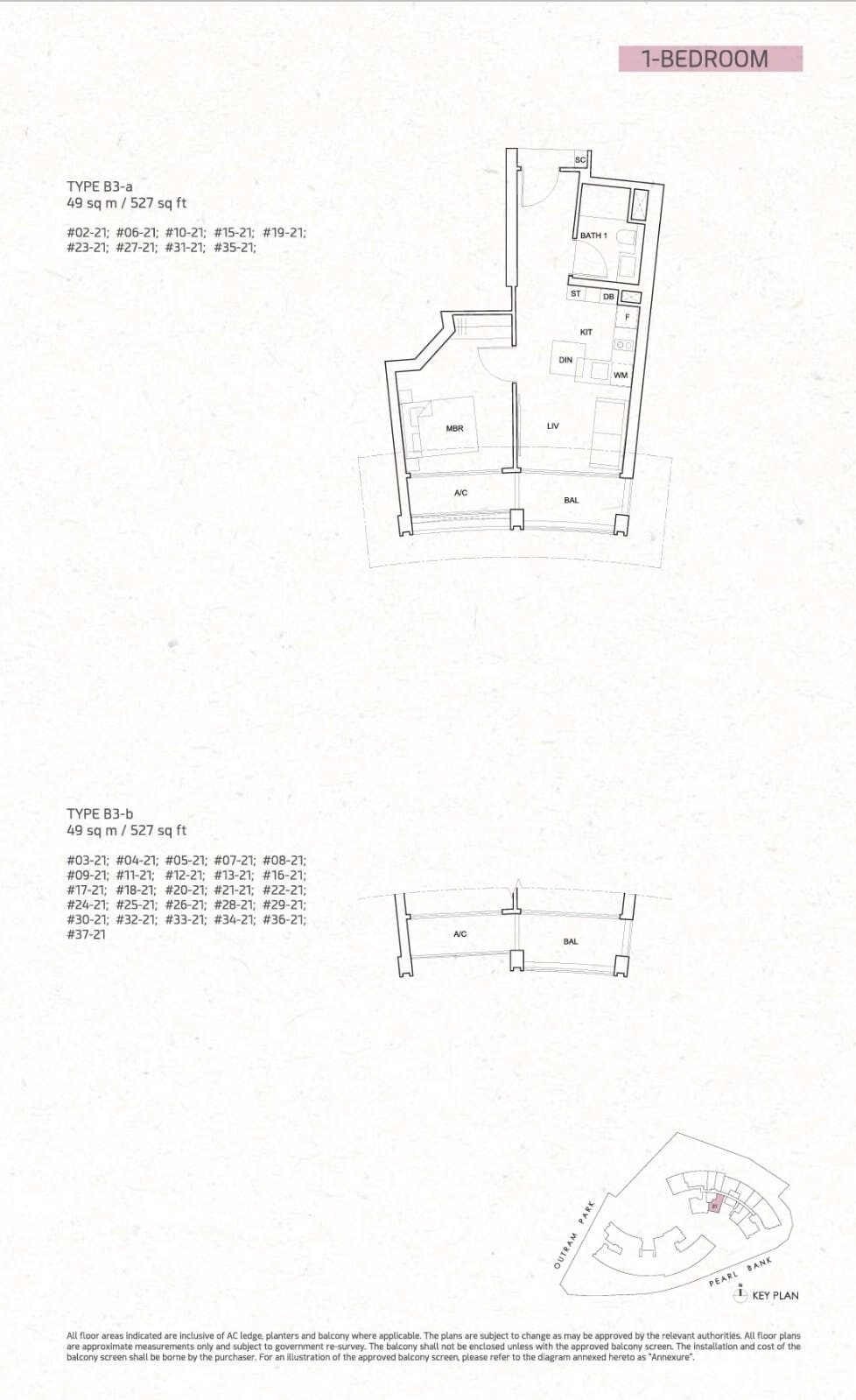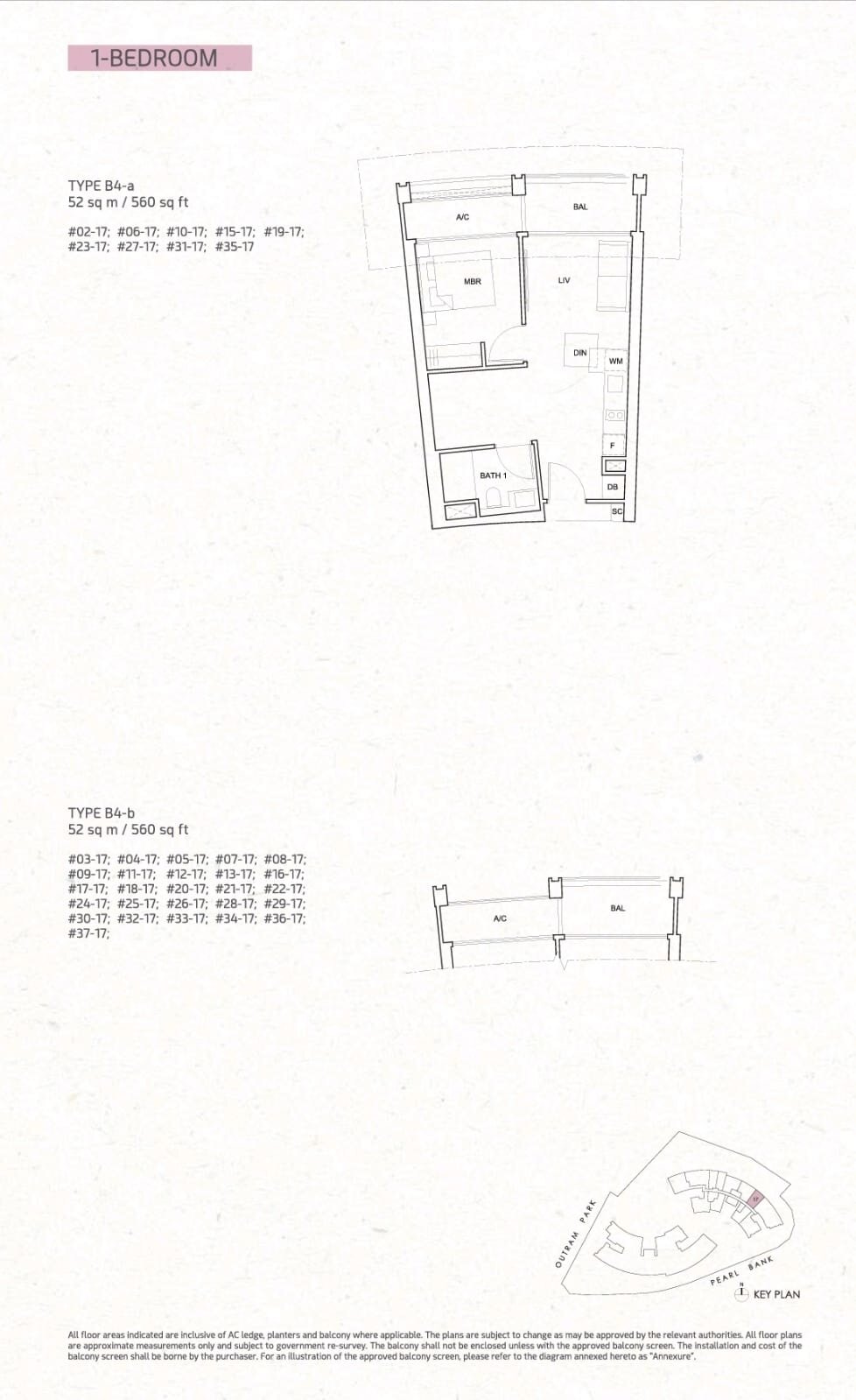 The 1 bedrooms come with four main configurations. Only B4 configurations, found in stack 17, are outward facing, toward the park. The rest face inward toward the pool. All of them offer a L-shaped kitchen that is space-efficient yet comprehensive. Some key differentiations are that B1 and B4 offer more counter space while B2 and B3 offer additional storage space. B1 and B4 have similar layouts, however, B1 offers more usable space in the living area. B2 and B3 are essentially inverted versions of the same layout. They are selling at similar prices at the $1.5m range for B1 and B4 and 1.3m range for B2 and B3. Personally, B1 seems like the most attractive for people who like to host because it offers more space for guests to move around despite it's similar price.
2 Bedrooms
The two bedrooms also come with four main configurations.
Overall Layout
The C units are 2-bedders with 2 bathrooms except C1 units that have only 1 common bathroom. C1 and C2 configurations also have dumbbell layouts that generally feel more spacious with lesser wasted space on corridors. C3 and C4 configurations on the other hand are larger with a longer entryway. C1 and C4 come with L-shaped kitchens that are more flexible while C2 and C3 come with one-wall kitchens. Moreover, C1 configurations (stacks 04 and 15) and C2 configurations (stack 06) are outward facing while C3 (stacks 11 and 22) and C4 configurations (stack 19) are inward facing toward the pool.
Balconies
For the C1 configurations, C1-a offers a downward view from the master bedroom and the planter is placed away from the aircon ledge. However, C1-b and -c do not offer downward views and C1-b has the planter right next to the aircon ledge that might damage the plants due to the continuous hot air.
None of the C2 or C3 configurations offer a downward view and all the planters are spaced away from the aircon ledge. C3-a and -c and C4-a and -c however, offer dual balconies that connect to the living room and the master bedroom allowing residents to enjoy a private balcony space within their bedrooms. Among the C4 configurations, only C4-a offers a downward view.
Verdict
Personally, I find C2 to be the most attractive. Although it is the same price as C1 configurations, within the $2.0m range, it comes with two bathrooms. Moreover, the space efficient layout ensures that the unit will not feel too small and it cheaper than the C3 and C4 layouts priced at the $2.4m and $2.3m ranges respectively.
3 Bedrooms
There are 3 main configurations for the 3 bedders.
Overall Layout
The main differences between the three configurations are that D1 layouts offer a larger kitchen space, and D3 layouts offer a larger living space, preferable to those who enjoy cooking at home and hosting, D2 layouts have the door open toward a wall which offers more privacy. However, D3 (stack 08) is the only inward facing configuration.
Balconies
Within the D1 layouts, D1-b is the only one that offers two balconies that lead into the master bedroom and living room. D2 layouts are very similar with two balconies except that D2-b's second balcony leads into bedroom 2. Finally, for the D3 layouts, D3-b offers one small balcony as opposed to 2 normal sized balconies like in a and c.
Verdict
If you love to cook, you might be better off with the D1 layout and it's also cheaper by approximately $200k. If you value your privacy and want to shield your home from potential prying neighbours, you might opt for the D2 layout that opens to a wall.
4 Bedrooms
The 4 bedrooms only have one main configuration.
This main configuration offers two master bedrooms, two normal bedrooms and a third bathroom. E1-a and -c have large balconies that lead from the living room and the master bedroom while E1-b has two smaller balconies that lead from the living room and the third bedroom. At the similar price points, E1-a and c look more attractive due to their larger balconies that could possibly allow for guests to lounge outside and a more private balcony from the master bedroom.
Comparative Analysis
The Landmark is an upcoming 39 storey single tower condominium a mere 351 metres away from One Pearl Bank, right across the park. Although it is currently under construction, the new launch has an estimated TOP in 2025 and might pose as strong competition for One Pearl Bank. Another potential competitor would be Dorsett Residences that has a TOP of 2013. Let's take a closer look at their different unit configurations and prices.
The Landmark's and Dorsett Residences' e-brochures have been attached for your reference but since they have multiple configurations, we will be focusing on their main ones. Moreover, both do not include studio configurations or 4 bedders. So, let's look at the 1-bedders.
One Pearl Bank might be more expensive compared to the other two but this price is justified by its larger area. Additionally, One Pearl Banks' bathroom is separate from the master bedroom which enhances privacy when having guests over. Dorsett's larger size owes to its courtyard space and unless you truly enjoy camping and would like to sleep in a tent outside, it is not very ideal for everyday use but a wonderful space for al fresco dining and entertainment.
For the 2 bedders, One Pearl Bank offers a larger space that justifies the higher prices. Moreover, One Pearl Bank and Dorsett Residences have dumbbell layouts that maximise space efficiency.
Likewise, for the 3 bedders, One Pearl Bank offers a larger space that justifies the higher prices. Dorsett does not have 3 bedders, instead, they have 2 bedroom + study configurations. However, they have a dumbbell configuration that once again maximises space efficiency.
Overall, although the different projects share similar locations, One Pearl Bank's units are generally larger. It is also already completed which is good for people who are looking to move in as soon as possible and it is also a younger building compared to Dorsett. Finally, it offers more options for potential investors and homeowners who have more specific ideas of what they want.
Tenant Pool
Future Development/Master Plan
Once the SGH Campus Master Plan is achieved, Outram will turn into a bustling medical hub. With Singapore's ageing population and medical tourism in Singapore, the demand for medical professionals is a constant. Coupled with Singapore's reputation for outstanding medical services, we are bound to attract more medical professionals to the area once the COVID-19 situation improves. Additionally, with the upcoming revamps to the central area by the government, Pearl's Hill will be transformed into a vibrant neighbourhood where professionals can build their homes.
Also, the government also has in place the Business Improvement District (BID) programme that will attract more businesses and global talents. Some of the key areas of this place include China Place, Marina Bay, Marina Centre, Raffles Place and Tanjong Pagar. All of which are close to One Pearl Bank. For these reasons, we feel that the tenant pool strength will be pretty solid when the development is complete.
Exit Strategy
There are several HDBs around the area with TOPs ranging in the 1970s and 1980s. This suggests possible HDB upgraders who might opt for One Pearl Bank, with the project's unique design and emphasis on greenery. This might also appeal to those looking for a haven within the heart of the city. Finally, the proximity to reputable secondary and tertiary schools might attract families with teenagers. However, due to the lack of options for primary schools within the 1km limit, this project might not be ideal for younger families.
Verdict
Although COVID-19 might make the future of the value of houses close to CBD uncertain, One Pearl Bank's unique location places it close to SGH and older HDBs, ensuring a diverse tenant pool and reducing volatility. Moreover, with the different development plans in place, the value of the property is bound to rise. Its close proximity to various food options make it ideal for foodies and families with teenagers and professionals – although not so much for younger families. Finally, it also offers various options for buyers providing them something catered to their lifestyle. If you find yourself to be within these categories, it may be wise to have One Pearl Bank on your cards.
Thank you for reaching the end of this article. If you are keen on purchasing One Pearl Bank, do contact PropertyLimBrothers here. We'll see you in the next one.